Expectation 2016
Pups expected half september!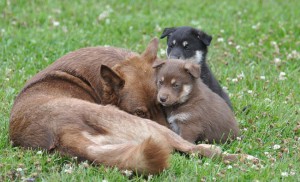 We plan a litter in 2016 with Saimi!
Character, health and appearance is very important to me, therefore we take the search for a good dog very serious. Both parents have done their health tests. There will be bred by the rules of the association.
The male will be Gátchis Juoksanáste Mánnu. The pedigree combi
Mánnu is a real working dog. He is a good representative of the breed. He is a good search and tracking dog and is used as a rescue dog. For people and especially children, he is super sweet. He can also get along with most species. He has withstood the reindeer test. I'm very grateful to Marianne Neidhardt that she has confidence in me and consents Mánnu to be the father of the pups.
Pictures are taken by Marianne Neidhardt and Jonna Almenäs